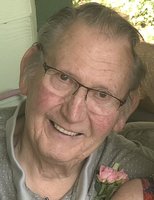 Maynard Tjoelker
Maynard Tjoelker (age 84) entered into rest on January 1, 2019 in Lynden, WA. Maynard was born on January 16, 1934 in Lynden to William and Ruby (Haveman) Tjoelker. He attended and graduated from Lynden High in 1952. On July 29, 1953 in Lynden, Maynard married the love of his life Gertrude Vermeulen.
Maynard has worked his entire working career in the auto industry and auto sales prior to his retirement. He will be remembered most for his Loving and caring personality. Maynard was a very outgoing and strong individual who loved music and to sing. He was a strong believer in Jesus Christ with a strong faith and active in his church.
He is survived by his wife, Gertrude; daughters, Kathie (Larry) Eshuis and Kelli Parsons of Lynden; grandchildren, Jennifer (Jim) Hoekema, Jason Eshuis, Amy Worden, Dwight (Emily) Worden, Layton (Stephanie) Parsons; great grandchildren, Jennessa and Jami Hoekema, Tristan and Riane Eshuis, Laci Worden, Peyton, Kylie and Levi Parsons. Maynard is preceded in death by his son in law, Robert Parsons.
A celebration of life service will be held on January 19, 2019 at 11:00 a.m. at Faith Community Church 586 Birch Bay Lynden Rd. Lynden, WA 98264. Memorial contributions may be made in Maynard's name to the Alzheimer's Society of Washington Suite A1,, 1301 Fraser St, Bellingham, WA 98229. Please sign The Book of Memories, light a candle and leave your condolences for the family at www.JernsFH.com