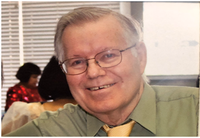 Ernest Ralph "Ernie" McCausland
Ernest (Ernie) Ralph McCausland was called to rest on Saturday, March 3, 2018 while he was asleep in his home in Birch Bay surrounded by family. He was the sixth child born to Raymond Henry McCausland (deceased,1954) and Bessie Brown Rassner (deceased,1974) on September 2, 1939 in Yakima, Washington.
On September 15, 1961 he married Elda Marie Ost (deceased, 2008) from Fredonia, North Dakota. Shortly, after their wedding he was drafted into the United States Airforce and proudly served from March 1962 to March 1968, he then worked for Boeing in Renton, WA until he retired in 2000. Ernie and Elda had 5 sons; Ernest Ralph McCausland Jr. (deceased, 1967, at 2 months), Vernon McCausland (deceased 2007,at age 44), Geoff McCausland (Andrea), Kelly McCausland (Diana), Kevin McCausland; and 3 grandchildren. Upon Elda's passing in 2008, before their 46th wedding anniversary, she wished that Ernie would not be alone.
In October of 2010 he met Virgi Ronquillo Apuya the widower of Pedro (Pete) Nunez Apuya, who made one request of Virgi, he asked her to find love and remarry, for he did not want her to be alone, when he passed on June 17, 2007.
On June 18, 2011, Elda's wish for Ernie came true. He married Virgi. Through this union Ernie gained a daughter; Ain Apuya Fitzpatrick (Philip), another son; Abmel (Abby) Ronquillo Apuya, and 6 grandchildren.
Ernest is survived by his wife; Virgi, children; Geoff, Kelly, Kevin, Ain, and Abmel, Daugthers in laws; Andrea and Diana, Son in law; Philip Fitzpatrick, grandchildren; John Wise, Marie McCausland, Kelly David McCausland, Michael Apuya Mercado, Matthew Apuya Mercado, James Apuya Peper, Vincient Fitzpatrick, Cierra Fitzpatrick, and Dakota Fitzpatrick, his sister; Kathleen Doris Trader, as well as many nieces and nephews and great nieces and nephews.
He is preceded by his wife Elda; sons Ernest Jr and Vernon; father Raymond; mother Bessie; siblings Raymond Henry Jr., Lawrence Delbert, Donald Eugene, Vernon Leroy, John Henry, Leonard Dean, and Margaret Lee.
A funeral mass will be held on Saturday, April 14, 2018 at St. John parish in Mukilteo, WA at 11:00am, 829 3rd St., Mukilteo, WA 98275 followed by a reception at Evergreen Reception Room, 4504 Broadway, Everett, WA 98203 from 1:00pm to 4:00pm.