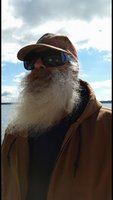 Nathan Warren Applington
Nathan Warren Applington (age 65) entered into rest on March 14, 2018 in Bellingham surrounded by his family. Nathan was born on December 11, 1953 in Houston, Texas to Nathan O. and Rethel "Johnson" Applington. After high school, Nathan joined the Army in May 1971 until May 1973. During his military service, he acquired the rank of Private First Class with a Marksmanship badge for rifle and the Expeditionary metal. Nathan is survived by his companion, Dorothy Applegate of Bellingham; son, Brian Hanley of Bellingham; daughter, Melisa Gonzales of Bellingham; brother, Melvin Applington of Bellingham; sisters, Marsha Bakom of Bellingham; six grandchildren, Carlos, Devin, Randi, Jazzie, Lexie and Armondo; two great grandchildren, Gemini and Yvette. He is preceded in death by his parents, Nathan and Rethel Applington, one sister, Melba Sunel and brother, Randy Johnson.
A celebration of life service will be held on Saturday, April 21, 2018 at 2:00 p.m. at the American Legion Post 86, 4580 Legion Dr. Blaine, WA 98230. Memorial contributions may be given in Nathans name to the American Legion Post 86.
Please sign the Book of Memories, light a candle and leave your condolences for the family at www.JernsFH.com
"How do you sum up such a wonderful man?! He had love for life family and friends. He had passion for working, camping and appreciation of Earth's beauty. He laughed often and loved much, he enjoyed Seafood and his chocolate milk. Nathan loved hunting fishing and good times. He loved to relax by the ocean and Nooksack River, to receive the peace that it brought to him. The opportunity to share his heart of gold he did so with open arms. If he entered a room of strangers he left with many friends. Devoted to those who cared. At a drop of a dime, he was there, if you needed a shoulder to cry on, someone to listen or a word of advice you could always count on him. He didn't desire a castle, home was where he laid his head. He always looked for the best in other, and gave the best he had. Surrounded by his loved ones he drifted fast to sleep. No longer will =he be in pain, his memory ours to keep."