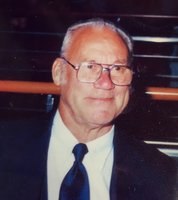 John Harvey "Jack" Eastman
John Harvey Eastman entered this world March 11, 1930 as the third child of Ray and Gertrude (Bonnema) Eastman on Garfield Ave in Blaine, WA. He followed his sisters Mary and June and 5 years later his brother Glen arrived. He left a legacy on September 11, 2017 on C Street in Blaine, WA. For those who knew Jack, knew his love of numbers. He was 87.5 years of age. He attended Blaine Schools graduating in the class of 1948. His journey to school often took him through the home of his grandparents John and Sadie Bonnema where he would consume either a second breakfast or a prelunch. Proud of his accomplishments in athletic endeavors he lettered in football, basketball and baseball. He enjoyed many class reunions and reconnecting with all his old friends. He was the proud owner of a Model A and became a popular source of rides, (more people could fit into a Model A then Ford intended). One of those who frequently rode with him eventually became his wife, Gloria Mutch with whom he married September 20, 1953 just shy of 64 years of marriage. At 21 he received his draft notice and went off to Camp Roberts for basic training during the Korean Conflict. Having lived in a small town his entire life his background check cleared quickly and he entered the Intelligence Corp and served his time in the Pentagon. He used his time back east to meet his mom's family and see the sights. He also learned he liked corn-on-the-cob after going to Coney Island and dipping the corn into the vats of melted butter. With the GI bill and some gentle nudging from his then wife Gloria, Jack entered college graduating from Doane College in 1958 earning his teaching certificate. Where at one time he was actually one of Gloria's students. He returned to Blaine and resumed commercial fishing like most Blaine boys. He taught his first 6 years in Lynden, then 23 years in Blaine, a career of teaching and coaching that he enjoyed for 29 years and what a legacy. In 1980 Jack & Gloria moved to the farm where Gloria was raised and he became a part-time farmer, full-time teacher. After "retirement" in 1989 he began farming on a full time basis and eased into retirement by being available as a substitute for a few years. They raise beef cattle, and always have a garden full of vegetables.
Jack and Gloria raised three children Kari, Sheli (Jackson) Moore, and John(Kim) Eastman . Proud Grandparents of Shayne, Olivia(Libby) , Gabraelle(Elle) Moore, Kjel and Kjirstin Larson. Step-grandpa to Tamera Iverson and Mitchell Williams. Brother to Glen (Aline) Eastman. Uncle to Barbara(Ken)Ives, Sue(Mike) Vanderpool, Charlene(Dave) Sprating, Tim(Kathy), Joe(Joan) Randell, Patsy (Gary)LaBree, Donna(Dave)Ammon , and Julie Eastman Young He was predeceased by his sisters and brothers in law Mary (Bud) Miles and June (Jacob) Randell. Nephew Frederick Eastman and Nephew-in-law Guy Young
Our family would like to express our deepest gratitude to the staff at Stafholt Good Samaritan Society for the professional care they not only gave to our husband, father, grandfather but how they included all of us.