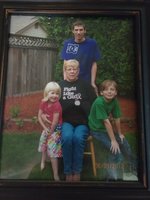 Phyllis A Mahurin
Phyllis Ann Mahurin (age 67) of Lynden, Washington went to be with the Lord on September 9, 2017 in Bellingham, WA at Whatcom Hospice House. Phylllis was born on November 3, 1949 in Fredericksburg Texas to J.C. and Deloris (Shaw) Mahurin. She attended Amphi High School in Tucson, AZ only completing the 11 grade and getting married. During her working career, she was a homemaker, managed a home daycare in Arizona. In her later working years, she worked for DeYoung in Washington.
She was very proud of her family, loving them all. She was really attached and loved her dogs, Bear, Shawnee and Abby. Phyllis also had a great affection for her many cats she owned during her life. One of the families' fondest memories will be her passion at beating everyone in Yahtzee. Most of all, Phyllis will be remembered for her love of music and her magnificent day trips.
She was a very strong Lady through all kinds of trials while battling cancer. She just left things in God's hands. She was a loving daughter, sister, mother and grandmother had many close friends and family. Phyllis is survived by her sons, Larry (Celia) Scherb of Tucson,Az., Brian (Marla) Scherb of Everette Wa.; daughter, Kim (Jay) Maden of Lynden Wa.; Brother, Darrell (Linda) Mahurin of Tucson, Az.; 8 grandchildren; Ashton,Skyler,Ginger,Luci,Austin; 2 step Grandsons, Michael and Anthony and one foster grandson Izayah. She is preceded in death by her parents, J.C. and Deloris Mahurin and one brother, Larry Mahurin.