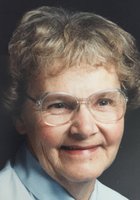 Evelyn June Zegers
Evelyn June Zegers passed away on July 24, 2017 at the age of 86. She and her husband Richard celebrated 64 years of marriage in June. Born on March 19, 1931 in Ellsworth, MN to Wilber and Grace (Talsma) Rienstra, she grew up in a bakery family. Her lifelong love of baking helped in the raising of her 4 children who always knew there were cookies in the cookie jar and fresh bread in the pantry. Ev and Rich raised a loving family: Bruce (Yvonne) of Kent, Roger (Diana) of Poulsbo, Ron (Kathy) of Bellingham and Kathaleen McClary (Dean) of Lakewood, plus 7 grandkids and 17 great-grandkids.
Some of her favorite activities were walking, sewing and looking for bargains at garage sales. Evelyn loved world traveling, including trips to Africa, Europe, Asia, Australia, Canada as well as the United States. Her extensive spoon collection illustrates the scope of her travels.
A long time member of Mountain View Christian Reformed Church in Lynden, she enjoyed weekly Bible studies as well as many other church activities. Her love of God was reflected by the family and friends who surrounded her in her final days. They are all comforted in the knowledge that she is now free of pain and rejoicing in the presence of God.
A celebration of Evelyn's life will be held at Mountain View Christian Reformed Church, Lynden WA on August 25, 2017 at 2:00 PM.
Memorial donations may be made to the Lighthouse Mission in Bellingham (www.thelighthousemission.org) or the Mountain View Christian Reformed Church Benevolent Fund (www.mountainviewcrc.org/) .