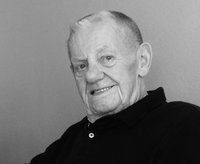 Jack B. Russell
Jack B. Russell, age 86, passed away on Tuesday, May 30, 2017 in Bellingham. He was born
on June 25, 1930 in New York where he lived most of his life and married his love, Eileen
Doxsee. He was preceded in death by his wife and son David. Jack loved to share his life
stories, of lifeguarding in Jones Beach NY, Navy days, working as a cabinet maker and his
career at Grumman Aerospace. He is survived by his daughters Kim, Jackie, Nancy, and
grandchildren Ryan, Jillian, Owen, Griffin, Quinn and Jade. A life celebration will take place in
New York in September with family. Please leave your condolences for family at JernsFH.com.